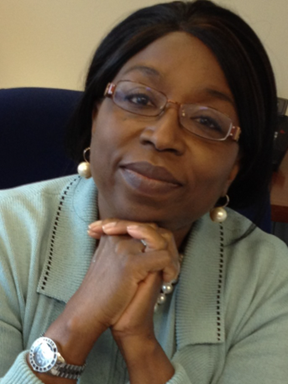 Angela Nwaneri
Business Manager / COO
Angela is the Business Manager and Chief Operating Officer of First Cardiology Consultants/FCC Healthcare, a multi-specialist hospital whose mission is to deliver the highest quality comprehensive Medical and Surgical care through innovative use of modern technology and a commitment to local capacity building, education and collaborative research.
Before joining FCC Healthcare, Angela was at Johnson & Johnson (J&J), from where she recently retired as Vice President and General Counsel, Janssen Pharmaceuticals and the Consumer Group of Companies. As General Counsel, she was a member of the Management Boards and led a global team that was responsible for all legal matters concerning J&J, worldwide. Prior to her legal career, Angela spent several years on the business side and was for several years a Marketing Supervisor at 3M Corporation.
An engineer and patent attorney by training, Angela has held various positions in the intellectual property area. As an associate at the law firm of Oppenheimer Wolfe & Donnelly, she worked primarily in Mergers & Acquisitions, IP litigation and served as legal counsel and Corporate Secretary to several start-up companies. She was Senior Division Patent Counsel for Corning Incorporated where she led a global team responsible for their advanced materials patent portfolio. She began her Johnson & Johnson career as Vice President, Patents for Alza Corporation (a J&J company), where she also served on the Management Board. And she would later assume global responsibility for the patent portfolio of the J&J Consumer Group of Companies.
In the areas of public health and policy, Angela has counselled organizations on the impact of global policies on affordability and sustainable access to medicines in emerging markets, particularly Africa. She represented J&J in various public-private partnerships (PPPs) including the Gates Foundation, the Clinton Health Access Initiative (CHAI), the Wellcome Trust and many other groups in collaborations addressing neglected tropical diseases (NTDs) and other global health issues.
Her long career has taken her across the globe including four years in Brussels where she led a global team responsible for the company's office of Global Public Health and helped guide its global IP Policies at the World Intellectual Property Organization (WIPO), other UN organizations, and the International Federation of Pharmaceutical Manufacturers Association (IFPMA).
Angela holds a Bachelor of Chemical Engineering (BChE) degree from the University of Minnesota, an MBA from the University of St. Thomas, and Juris Doctorate (JD Hons.) from William Mitchell College of Law. She is the president of Ireze Foundation, a non-profit organization that is focused on education in resource-limited areas of Nigeria.