Our Vision
Our Vision To set the standard of excellence in medical care in Africa.
Our Mission
To deliver the highest quality comprehensive cardiovascular care in Nigeria by innovative use of modern technology and a commitment to local capacity building, education and collaborative research.
First-Cardiology-Consultants–Doctor-talking-to-patient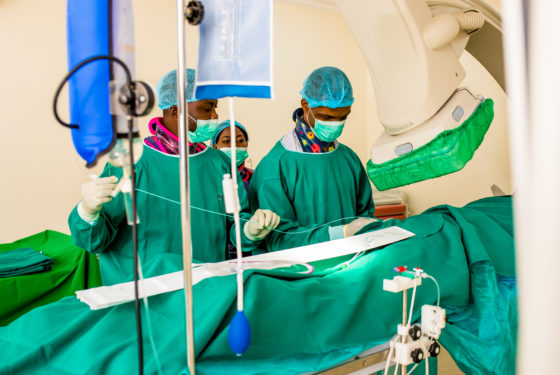 Directors
The Medical Director and Chief Executive Officer, Dr. Adeyemi  Sanyade Johnson is a seasoned interventional cardiologist trained in the U.S.A. He graduated from the College of Medicine University of Lagos in 1981. He began his postgraduate training at Yale University New Haven Connecticut USA where he was enrolled in the Masters in Public health and preventive Medicine program. He underwent his Internal Medicine Residency training program as well as his Cardiovascular Disease fellowship training program at the College of Physicians and Surgeons of Columbia University New York. He became a Diplomate of the American Board of Internal Medicine in 1987 and Diplomate of the American Board of Internal Medicine- Cardiovascular disease Subspeciality in 1989. He subsequently underwent Interventional Cardiology Fellowship training at Loma Linda University Medical Center, Loma Linda California. He became Director of Vascular Cardiology at Mid Carolina Cardiology, Charlotte-North Carolina and is credited with the initiation of the peripheral vascular intervention program at the institution. He was appointed Associate Clinical Professor Wake Forest University Medical Center Winston North Carolina in 2006. He relocated to Nigeria in 2008 and founded First Cardiology consult Ltd. He has pioneered contemporary invasive cardiology in Nigeria including the first coronary angioplasty with stent implantation in Nigeria, first non-surgical (percutaneous) closure of holes in the heart for children (patent ductus arteriosus) and adults (atrial septal defect). He now performs these procedures routinely. Dr Johnson has also established a non-surgical peripheral vascular disease program to restore blood flow to blocked arteries of the arms and legs. This program has helped salvage several limbs which hitherto would have been amputated due to poor circulation. He also initiated a busy pacemaker and implantable defibrillator program which offers prophylactic and therapeutic care to patients with advanced cardiac failure.
The Co- Medical Director and Chief Operations Officer Dr Kofoworola Olufunsho Ogunyankin is a cardiologist and a specialist in echocardiography. He graduated from the College of Medicine University of Lagos in 1985. He started his postgraduate training in Medical specialities in the United Kingdom in 1987.  He became a Registrar in Internal Medicine and obtained the Membership of the Royal College of Physicians of the United Kingdom in 1991. He relocated to the USA and continued his training as a Resident in Internal medicine (Accelerated pathway) at the State University of New York (SUNY) Stony Brook Long Island. He underwent his Cardiovascular disease Fellowship training at the University of California Los Angeles (UCLA).  He subsequently underwent Advanced Cardiac Imaging training at Tuft's University New England medical Center Boston. He became a Diplomate of the American Board of Internal Medicine in 1995, Diplomate of the American Board of Internal Medicine- Cardiovascular disease Subspeciality in 1998, and Diplomate of the National Board of Echocardiography in 1999. He has been in academic practice since. He was Assistant Professor of Medicine Columbia University New York, and the Director of Echocardiography at Bassett Healthcare Cooperstown New York from 1998 to 2002. Assistant Professor of Medicine and Clinician Scholar Queen's University, Kingston Ontario Canada from 2002 to 2007. Assistant Professor and Clinician Scientist Northwestern University Feinberg School of Medicine and the Bluhm Cardiovascular Institute Chicago from 2007 to 2010. He initiated major research programs in Hypertension and Diastology, and led the imaging component of the Queen's university Molecular Cardiology program. At Northwestern University he initiated several research programs among which were Non-invasive evaluation of cardiac transplantation patients, morbidity associated with diastolic dysfunction in young adults, and quantification of gender and ethnicity-related variations in right ventricular size. He has served on many leadership positions in Cardiology and Echocardiography. He is currently the African Continent representative on the International Relations Committee of the American Society of Echocardiography (ASE), tasked with propagating the advances of echocardiography around the globe. He currently serves on the Council for Sonography Education of ASE. He was formerly a member of the Guidelines and Standards Committee of the ASE. He has authored many original publications and is a reviewer for several cardiovascular disease journals as well as Abstract Grader for many cardiovascular disease organizations scientific sessions. Since he returned to Nigeria in 2010, he has incorporated advanced echocardiographic imaging and clinical research into the activities of First Cardiology Consultants. He has also developed a very busy sleep medicine program to cater to the increasing population of Nigerians with obstructive sleep apnea. His research interests include early detection of heart disease including hypertensive heart disease using echocardiography. He has supervised the local clinical training of medical personnel several medical officers who are currently undergoing postgraduate Residency training in the USA. The echocardiographic laboratory at FCC is now regarded as the benchmark for advanced imaging in Africa, and is the only center in Africa designated by the World Alliance of Societies of Echocardiography (WASE) for the international multicenter study for deriving normative values of various echocardiographic measurements.
Our Services
We are at the forefront of technological revolution in medicine, which we apply in the provision of complete and holistic treatment regimes
View Services
An Experienced Team
First Cardiology is staffed by talented, caring, and highly skilled expert doctors dedicated to providing the best care to enhance the lives of our patients
Our people
Work with us
Work with our highly skilled specialists who have a depth and breadth of experience that ensures expert healthcare delivery.
Apply